Heart n' Hands Massage in Sedona
Having lived in Sedona for many years, I've had an ongoing opportunity to be surrounded by beauty and nature. Sedona feeds the soul and helps us to remember what it feels like to have our senses awakened.
Massage is such a wonderful way to transform our bodies and our minds. I deliver nurturing touch and help each client find a more relaxed way of walking in the world. My mission is to encourage each person to find a calmer state of inhabiting their own body and their place on the planet.
Let the beauty of Sedona enrich your spirit, while allowing the healing touch of my hands on your body bring you back to your highest self. Whether you are looking for a relaxing massage or freedom from pain or wanting to connect with your own essence, allow me to assist you.
I am a state licensed massage therapist and have been doing and loving massage since 1999. My initial certification was obtained at The Arizona Institute of Integrative Studies. I enjoy assisting people on their journey of greater physical and emotional freedom and feel very blessed to do this work.
Over the years I have been fortunate to have trained in several different modalities, each with it's own value, flavor and purpose. For a list of the modalities I am trained in look under massage services.
Many of the sessions I do incorporate more than one modality, since each persons body has different needs on different days, this enables me to find the most effective combination to help provide pain relief, relaxation and harmony to both body and soul. I believe that many of us are holding onto old patterns both in our minds and our bodies, therefore I encourage my clients to take some deep breaths, which allows for release of stuck energies both physically and emotionally. When we are pain free and relaxed, we can call in new ways of being. We can then call in the properties which serve us,( gentleness of spirit, compassion, joy, a zest for living) these become more dominant and those characteristics which don't serve us, have an opportunity to melt away.  I am happy to get to do work that helps make the world a softer place.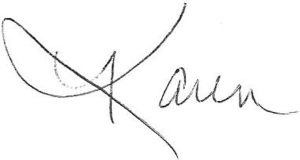 Karen Sternberg, LMT